Silicone Molded Products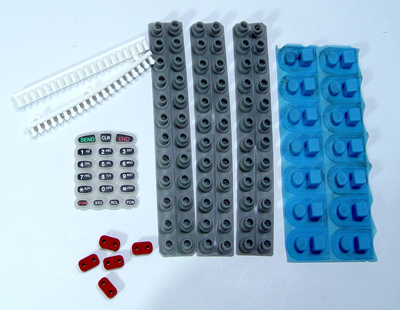 Molded silicone rubber products are manufactured to meet your strictest standards. We have produced a wide variety of silicone rubber molded parts such as bellows, grommets, seals, pads, boots, bumpers and bushings through utilization of transfer compression and injection molding processes. Our silicone molding capabilities are practically limitless.
O-rings are available in a full range of sizes and materials. Our O-rings are designed using carefully compounded silicone rubber manufactured to RMA class A high precision tolerances. These O-rings can be cut to any length and vulcanized to provide a strong, uniform thickness with a durable joint. Heavy duty static applications have used O-rings of this construction type successfully for decades.
We manufacture die-cuts gaskets from a wide range of sheet materials for your sealing and packing requirement.
Our "state- of -the-art "molding equipment coupled with continual press and process evaluations insure the most reliable method of efficient mass production. We design and make the molds and tooling at our own mold shop.
O-rings
Seals
Diaphrams
Bushings
Gaskets
Baby Nipples
Flex Tube
Switch Caps
Key Pads
Electronic Parts.